Add a Touch of Whimsy Part 1
In recent times gardening has changed from being a basic necessity in order to maintain a small patch of lawn, into an exciting expression of ones' own personality and style. Gone are the days when gardening was something reserved for the retired or the particularly passionate. Nowadays, gardeners are taking all shapes and sizes, demographics and ages. Along with the homewares boom, boosted substantially by lifestyle sites such as Pinterest, and the sudden availability of affordable, chic housewares, came a new birth of renewed home pride, an exciting new trend of self-expression and creative exploration in one's home and garden. This new trend isn't based on your financial status, or a declaration of superiority, it is, instead, an opportunity to have a creative outlet to say, 'This is who I am.'

We here at Divine love that gardening is becoming an increasingly popular and fun past time, and as research clearly displays, it is not only good for the body but the soul and one's emotional state too! So if you are beginning to explore creating a haven in your garden, why not add a touch of whimsy?
Whimsy is defined as 'playfully quaint or fanciful behaviour'… think Alice in Wonderland meets quirky modernist style. Whimsy is whatever appeals to you as an individual, but it is intended to a be a burst of surprise, perhaps something unexpected in the landscape; anything that speaks of delight to you, is whimsical! So, let's explore a touch of whimsy.
Getting kids (and sometimes adults) outside can be difficult these days, but creating an inviting and exciting, fun backyard can be half the battle. Part of cultivating a fun atmosphere in your outdoor area is letting your creative juices flow, fashioning a welcoming space that expresses your own tastes and personality. So why not unleash your own whimsical side? Let the kids or grandkids join in forming something fun and quirky for your backyard space. We've included some fun, easy, affordable, do-it-yourself ideas below. Have a look and consider adding some fun personality to your garden retreat!
Spilling Flower Cascades

Creating the illusion of 'spilt flowers' from a tipped pot, this little addition is easy to create and even easier to maintain. Pick small, dense flowering ground covers to achieve the best result. We recommend considering Scaevola aemula Purple Fanfare.

All that you need to create your own is a pot or container of some kind, and several small flowered tubes to plant in a flowing pattern out of the mouth of the upturned pot. Want to get really clever? Plant different colours in rows creating a 'ripple' effect, or combine multiple colours for an exciting burst of colour in your garden! You can create a 'spill' as big or small as you like, just a small display like the picture above, or planting along a dry creek bed as a large burst of colour imitating flowing water. Will you try this decorative display in your garden?

Pictures:
http://blog.gardenloversclub.com/gardens/spilling-flower-planter-ideas/
http://www.boredpanda.com/spilled-flower-pots/
Recycle Old Household Pieces


One of the most cost effective and creative ways to add some whimsy and personality to your garden, is by recycling other household pieces in new ways. Use old buckets and pulleys to create a hanging planter spectacle, create your own whimsical wind chime by hanging teacups from string (mad-hatter style!), have some fun experimenting with old ladders, using rusted wheels and mechanical equipment as trellis. We recommend climbers like Hardenbergia violacea, and plants that fit well into smaller spaces like Lavandula Avonview and Nandina domestica Nana. Go all out by creating a living sculpture by growing moss and planting up old sofas or armchairs. Broken glass, mirrors or china? Create your very own mosaic with cement and the left over pieces… you are only limited by your creativity!
Pictures:
https://www.flickr.com/photos/osumg/7386639302/
http://www.sortra.com/inspiring-garden-decoration-ideas/
http://www.architectureartdesigns.com/21-design-ideas-for-small-gardens/
http://twowomenandahoe.com/garden-club/
Living Playhouse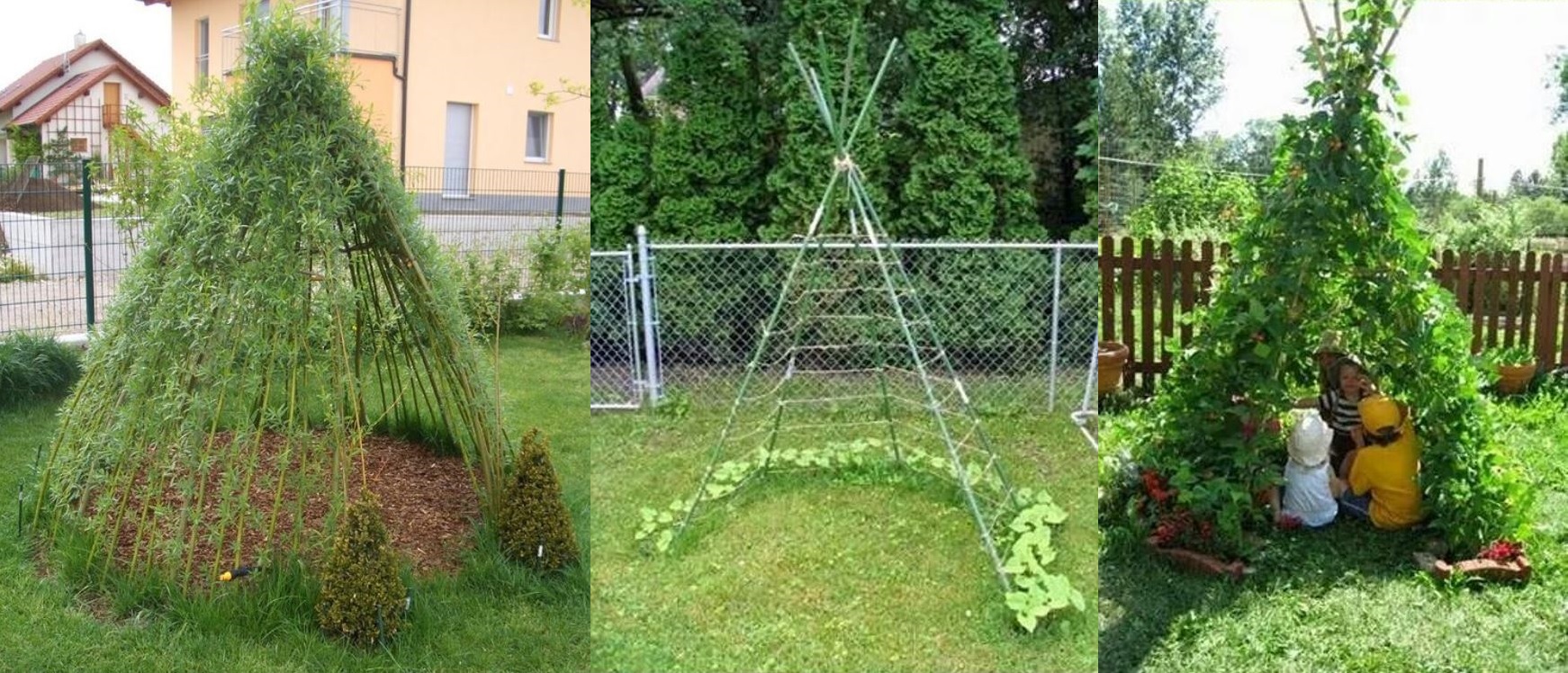 How about a living playhouse for the kids? A fun addition to any garden, it's also shady and full mystery! This structure is easy to set up, needing only some hose or timber, wire and a spare pair of hands. Set up your structure, and plant out underneath with any kind of climber you desire. We recommend something that grows quickly and densely with some beautiful colour in the flowers like Jasminum polyanthum. Just don't forget to check it every week or so as it grows to continue to secure the new growth upwards with zip-ties or string. We promise hours will be spent in this inviting and inventive playhouse!
Pictures:
http://alles-fuer-meinen-garten.de/
http://alternative-energy-gardning.blogspot.com.au/2014/05/pole-bean-hideaway.html
Create a Fairy Garden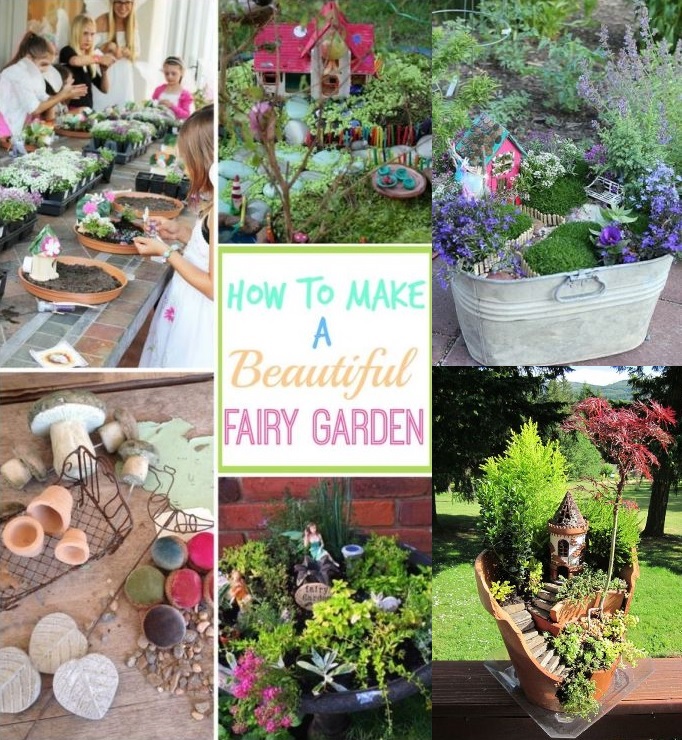 What could be more whimsical than a tiny fairy garden addition to your backyard? Not only is it a delightful surprise for children, but adults are also enchanted by this sweet and unexpected detail. Creating your fairy garden is a wonderful experience to take part in with your children or grandchildren, and it gives them something special in the backyard that will remain their own little world to retreat to. We recommend Design Dazzles 'How to make a fairy garden' for a great, in-depth tutorial on creating your own fairytale wonderland. Pick small flowering plants with dainty foliage and flowers to complement this magical escape… We recommend Babingtonia, Cuphea White, Cuphea Rob's Mauve, and Scaelova. Not great with finicky small details? Hop onto a site like Etsy for endless suggestions and beautifully handcrafted additions to your own unique fairy garden.
Pictures:
http://www.designdazzle.com/2015/03/how-to-make-a-fairy-garden/
http://lilaloka.org/activities/other-activities/
http://www.earthporm.com/broken-pots-turned-brilliant-diy-fairy-gardens/