Add a Touch of Whimsy Part 2
Create Outdoor Play Areas (Not just for children!)


Tic-tac-toe (or naughts and crosses) is a traditional children's game, that is easy to replicate in your backyard. Ivylore from HomeTalk created this simple tic-tac-toe table, by nailing an old table top to a tree stump and burning the lines into the tabletop. She collected pebbles and asked her granddaughter to paint ladybugs and bees on the pieces, glued googly eyes on, and voila! A beautiful, whimsical outdoor play area for all ages. What a great activity to involve your kids in creating!
Backyard chess (or checkers if that's more your speed) isn't unusual, but unfortunately has become uncommon. What a great outdoor activity with friends and family, exercising your mind as well being outdoors in the fresh air and sunlight while getting some much needed Vitamin D. You can go as all out or as simple as you like, some people buy their chess pieces online on websites such as Etsy, DIYers carve and paint pieces themselves. To create the board you can pave an entire area (keep in mind, you can make the playing board as small or large as you want) in a checkerboard pattern, or keep it a little more green by planting grass between the paving stones (See above). Don't discount a temporary solution either, utilizing either ribbon or string. Get outside and have some fun!

The old-fashioned ring toss is a great addition to a backyard, it is a wonderful game for all ages, and can be played across the generations. Get your creative on by spray-painting used bottles, decorate old embroidery hoops with ribbon or rope and superglue, and use an old wooden crate to store them when not being used.
What a great addition to those family gathering and holidays! Keep playing all hours of the night over summer by lining your volleyball net with Christmas lights! Not only is it an attractive spectacle, but it is a wonderful game that is hard to resist joining in. Play ball!
Pictures:
http://www.hometalk.com/1727075/tic-tac-toe-garden-table
http://thegardeningcook.com/best-gardens/
http://www.diynetwork.com/how-to/outdoors/outdoor-spaces/outdoor-entertaining-pictures?i=1
http://www.huffingtonpost.com/bridal-guide/15-ways-to-make-your-rece_b_3807218.html?slideshow=true#gallery/314236/6
http://www.phomz.com/03/29/lights-on-a-volleyball-net-at-night-yesss-need-to-do-this/
Get Out Your Paints!

Now, I understand this may seem like a big leap if you don't consider yourself to be an 'artist'. But stay with me… when creating a garden mural, or painting garden stepping stones the goal isn't perfection. There's beauty in the imperfections, and a deep sense of pride and self-satisfaction available in looking at something and knowing that you had a hand in creating it. It can be simple geometric lines or intricate plant and floral backgrounds. You are only limited by your imagination, and can involve a friend who has a little more experience if you feel nervous. This is also a great opportunity to get the kids involved! Give the kids or grandkids paints and paintbrushes and you've got hours of entertainment. And the best part? If it doesn't turn out the way that you imagined it, you can paint it over or sand it down and start over! Fool proof plan!
Pictures:
http://www.thegardenglove.com/how-to-add-whimsy-to-your-garden/
http://www.greendreamslandscaping.com/
http://ruthola-writeaway.blogspot.com.au/2012/05/my-eclectic-art-projects.html
Add Surprising Invitations to Imagination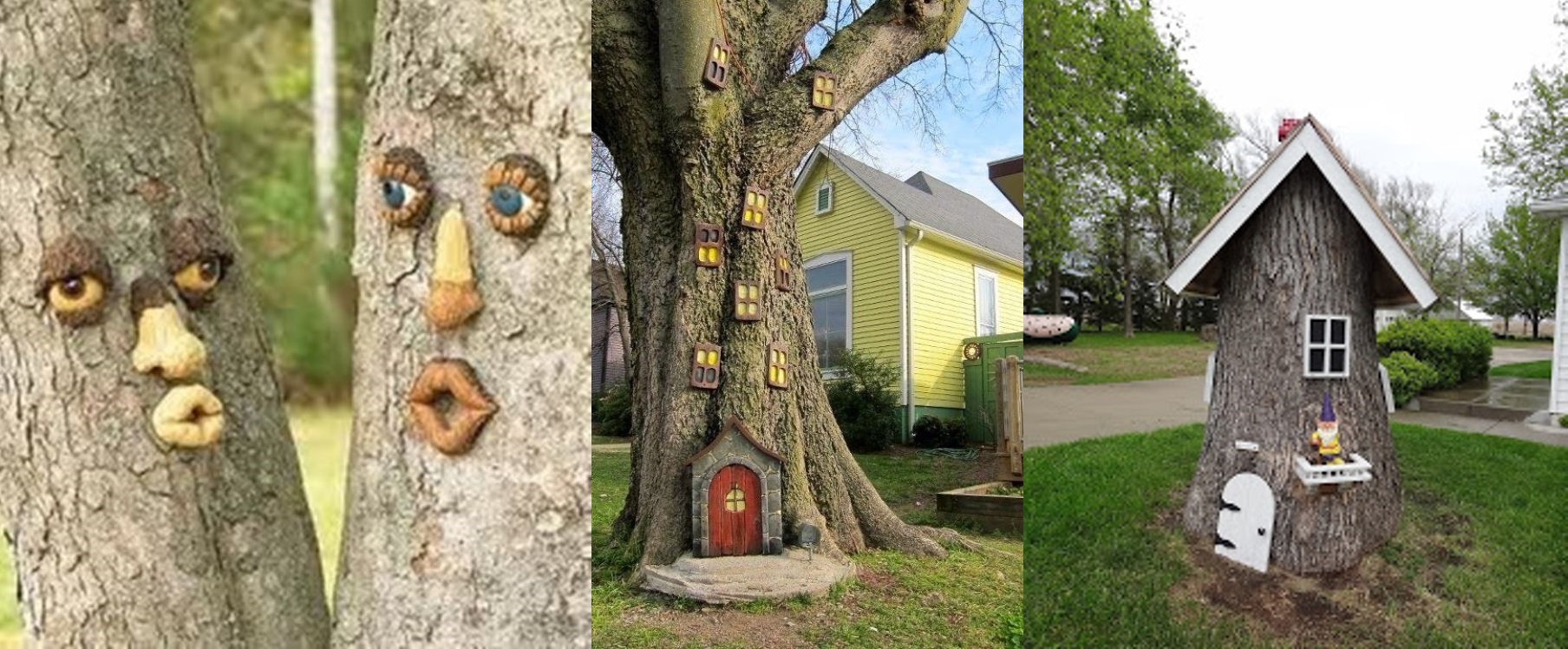 Go crazy with fun, exciting details in your garden that invite the imagination to take over. Create an 'elf house' on the side of a big tree, make faces on tree stumps… there really are no rules, and there is no such thing as 'too far' or 'too silly'. Everyone sometimes needs a reminder that we are all children at heart, and by employing some of these fun and whimsical additions to your garden, before you know it your backyard will be a welcoming and refreshing space for all who enter it. We recommend Jacaranda mimosifolia.
We hope you have enjoyed some of our suggestions and ideas for creating a fun and whimsical space in your garden, and that you are inspired to branch out creatively and introduce some imagination to your gardening exploits. We would love to see what you get up to, let us know on our Facebook page, or follow us on Pinterest for continued great gardening resources and ideas! Happy Gardening, friends!
Pictures:
http://www.hometalk.com/9621404/11-pictures-of-crazy-cool-uses-for-tree-stumps
http://stitchesscrapsandtidbits.blogspot.com.au/2012/05/fairie-garden-progress.html